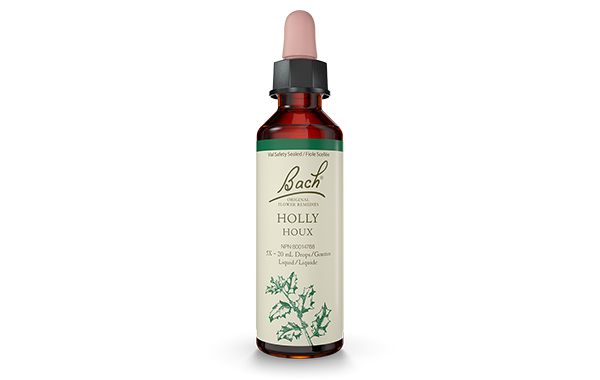 Angry, jealous
Bach® Holly
Curb your feelings of jealousy and envy. The positive potential of Holly is to be generous-hearted and give without expecting a return.
Approximately 380 doses per bottle
Directions
Adults: Add 2 drops in water and sip at intervals throughout the day or as directed by a healthcare practitioner.
Warnings
Consult a healthcare practitioner if symptoms persist or worsen.
If you are pregnant or breastfeeding, ask a health practitioner prior to use.
Use
Flower essence remedy.
Medicinal Ingredient
5X BHomP Ilex aquifolium (Holly) flowering twigs.
Non-Medicinal Ingredient
27% Alcohol.
Other Information
Store below 25°C / 77°F.
UPC: 741273005643
NPN: 80014768
Manufactured in England for
Nelson Bach USA Ltd.
North Andover, MA 01845
Bach® Original Flower Remedies can be taken in a variety of ways, try some of the following and see which way you prefer…
Bach® Original Flower Remedies are the only brand that sources its flowers and plants from the gardens at Mount Vernon (known today as The Bach Centre), and other locations personally identified by Dr. Bach...
When you are purchasing flower essences, always look for the Bach® signature on each bottle, a guarantee of quality...