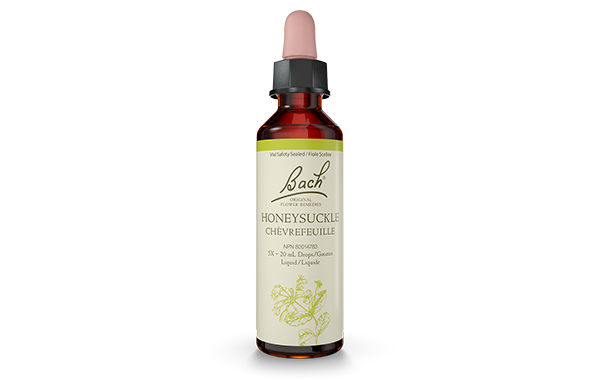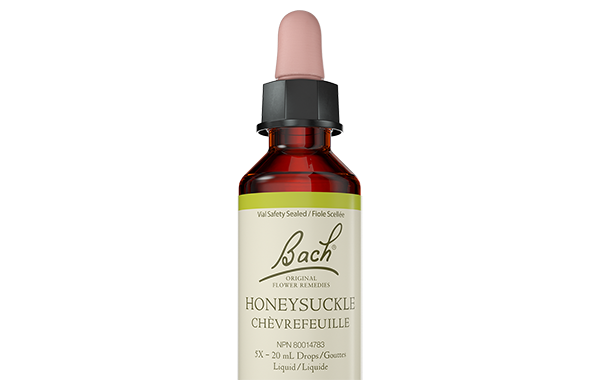 Dwell on past, nostalgia
Bach® Honeysuckle
The past is what makes us who we are; however, we can have regrets. The positive potential of Honeysuckle is the ability to live in the present, using your past experiences as lessons to move forward in life.
Approximately 380 doses per bottle
Directions
Adults: Add 2 drops in water and sip at intervals throughout the day or as directed by a healthcare practitioner.
Warnings
Consult a healthcare practitioner if symptoms persist or worsen.
If you are pregnant or breastfeeding, ask a health practitioner prior to use.
Use
Flower essence remedy.
Medicinal Ingredient
5X BHomP Lonicera caprifolium (Honeysuckle) flowering clusters with stalk and leaves.
Non-Medicinal Ingredient
27% Alcohol.
Other Information
Store below 25°C / 77°F.
UPC: 74127300572
NPN: 80014783
Manufactured in England for
Nelson Bach USA Ltd.
North Andover, MA 01845
Additional Information

Directions

Adults: Add 2 drops in water and sip at intervals throughout the day or as directed by a healthcare practitioner.

Warnings

Consult a healthcare practitioner if symptoms persist or worsen.
If you are pregnant or breastfeeding, ask a health practitioner prior to use.

Use

Flower essence remedy.

Medicinal Ingredient

5X BHomP Lonicera caprifolium (Honeysuckle) flowering clusters with stalk and leaves.

Non-Medicinal Ingredient

27% Alcohol.

Other Information

Store below 25°C / 77°F.

UPC: 74127300572
NPN: 80014783

Manufactured in England for
Nelson Bach USA Ltd.
North Andover, MA 01845

FAQs